Transitioning can be rough. I tried it many times before what makes me think I'll succeed? The resolve I have now is not to be shaken, by anything!! I am however considering a hair cut!
Accusatory statements can bombard your psyche making it overwhelming to progress:
Wasn't your hair lovely the way it  was "all straight"?
Didn't you have fun as you were?
You don't even know the first thing about your natural hair!
You're a phony      
You're not going to look as nice , you won't look finished to the western world's standards
You have to hold onto your stringy ends because you will be less without them.
I had a thought that maybe I have been thinking of Christianity like it was a transition of sorts as we move from the old man into the image of Christ. I sometimes struggle in my transition and I think this is where I thought I had to wrestle for salvation. But this is a wrong way of viewing it (at least in the hair context) as it suggests one foot on either side!! We have transformation not transitioning when we step into Christ; we are now new creations (2 Corinthians 5:17) the old things have passed; but what about the journey? Like my hair I was carrying with me these stringy ends which try to condemn me to stick with the old. You see the ends of your hair are your past decisions. How I treated my hair in the past is evident in the shine of my strands, the integrity of the shaft, the width of each , the strength and resilience, is it soft to the touch or brittle and dry?
In my christian walk there are some ends that must be cut off because they stifle future growth. The accusatory end statements that potentially plague:
Look at all the mistakes you made to date and will make:That is STILL you! I'm waiting for you, You're weak anyway!! #Pleasejustfall!
You will have to give up so much of your life: you'll miss out on fun?
You don't know the first thing about being a Christian!
You will never be sanctified or made new: you broken, always will be!
You're a phony!
You will never amount to much!
Who could ever love you you're such a loser!
You have to hold onto your stringy ends from your past because they define you!
But what I experienced when the scales had been removed from my eyes was not meant to be an initiation of a transition process it was a 'big chop'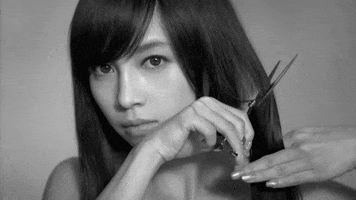 a call for the past to die and to continue on into the new. To see my new hair grow, to see myself grow , to know with firm conviction what and who I was in Christ and be progressively transformed into his image day by day. Thus the journey begins you can leave your bags at the door. Watch the Christ hair grow!
With this knowledge there is freedom in Christ. I can now with confidence believe that I will not be put to shame Isaiah 50:7 and I am new, he who started a work in me is completing it. So the  accusations can be denounced and instead truths reclaimed :
My mistakes don't define me I have put on the new man; it is no longer I that live but Christ living in me, Christ died once and for all our sins: past, present and future… as I continue my aim is not to abuse grace but to flee from sin!
Things have been naturally falling away…but I am willing to give up everything because all earthly pursuit is vain; when there is an everlasting glory promised which do you choose?
I am now a  Christian with a burning passion in my soul… I know that I love Christ and with this love I will obey and follow him. May this soul longing never cease!
But God clearly shows and proves His own love for us while we were yet sinners Christ died for us Romans 5:8  I  am saved , I am a saint no longer a slave to sin but to righteousness, He has made me whole!
I believe I have already become much more than I ever thought I could and I know that his thoughts, his plans are higher than mine Ephesians 3 exceedingly and above all I could ever ask or think …there is a hope and Future which includes me in it.
I am not a loser he leads me to sweet triumph (2 Corinthians 2:14) nor am I lost :he is my good Shepherd and I am experiencing love in various forms even now but more about love next week (stay tuned)
My ends have been removed, what I must work on is removing the memory of my ends and understand that I am held back by a lack of transformation of my mind.
Do not be conformed to this world, but be transformed by the renewal of your mind, that by testing you may discern what is the will of God, what is good and acceptable and perfect.
And as I grow in the new creation that I am I will be watchful for any potential harm done always holding fast to the truth about me! Trimming away any damaging strand and taking good care of the temple. Let go of the lies and truly find out what God is saying about you.