(WA)Wednesday: Having a Heart Attack?
Pain piercing into my chest triggering the urge to cough violently as if the jolts would somehow return my heart to its right function. I buckle over with the nerve signals bursting through my shoulder up my neck and flowing into my arms, till my fingers became numb.
 I can scarcely breathe. Oxygen seeps from my stagnating vessels. The source of circulation in my body, of life, blocked and failing. Cardiac arrest, blood put on pause till the right voltage could shock me back into sync.
Till the surgeon could clear my arteries of sclerosis, the hardening, the blockage.
I'm sick and I need healing!
Of course, we can't determine the length of our days but we can try to take care of ourselves with certain measures and regular check-ups. Sometimes our heart conditions could be prevented with lifestyle change or external interventions should we be aware of them. It's our duty to get it checked out.
Musings from within the storms and the darkness that so often fills the night sky lately. As the rain fell it was no longer easy to feel I was safe from the torment that was outside.
The raging winds in the trees and the torrential downpour drawing closer to sweeping me up. This couldn't affect us safely inside our fortified structures?Could it? In a heartbeat could I be vanquished? Or were these comforts akin to a crumbling high tower placed at the end of every street?What was our true protection from harm? The enemy does not receive a storm watch holiday just because we have. He is an opportunist why would he sleep? On this particular stormy night, I think about Disease: specifically a heart attack of all things.
When you are at risk of a heart attack you show certain markers. I am not a doctor so forgive me if my description falters. There may be some indications or risk factors  such as Congenital heart disease or disorder, improper weight /obesity, poor physical stamina: shortness of breath, diabetes, high blood pressure,  other circulatory complications: cholesterol, atherosclerosis, occlusions etc
Doctors would usually perform a battery of tests to check a number of different factors, monitor them and prescribe prophylactic measures whether by lifestyle change, medication, both or even surgery. To measure a persons cardiovascular state, a cardiologist performs a stress test where the patient comes in and performs a number of increasingly strenuous exercises whilst hooked up to an ECG and usually an Ergospirometer is used to simultaneously check the cardio-pulmonary performance as the body metabolizes oxygen in the process of fueling the body to do work and ultimately to live. Another test to detect heart attack is the blood test for the levels of the protein troponin. When the heart has become damaged it releases troponin.
Whilst cardiovascular disease poses a large threat to our life physically, what does it mean for our spirit? As I thought about this process I turned the concept to our condition in the soul? What pre-markers are we showing in our daily walks that indicate we are at risk of heart attack spiritually? Is there a lack of love, a disinterest in others? Are we unkind or outright evil? Are we trusting in earthly things? Are we lazy, gluttonous, self-righteous, immoral, prideful, lustful, perverse? The list goes on. Would you allow God to do heart surgery on you today?
The bible says
Proverbs 4:23 (AMPC)23 Keep and guard your heart with all vigilance and above all that you guard, for out of it flow the springs of life.
How many of us are on track for spiritual cardiac disease and are indeed very sick but not taking preventative measures? As I searched my own life I found a few areas that were in need of prophylaxis: for me, this means strategies for prevention of an undesired disease before it has a chance. Prophylaxis comes from the Greek word for "guarding"
What is a disease?
DIS………EASE
Am I in right standing in spirit before God? Or am I experiencing symptoms of a lack of ease in my spirit? We are not to live complacently or lives filled with ease but we are to overcome battles and to be well in spirit. To be victorious with power from the blood of Christ Jesus. His blood washes the vessels of my heart clean and it softens every hardened part. The un-quenched Holy spirit within us could it be like the stent holding my vessels open to the blood of Christ pouring in? He is so much more than that!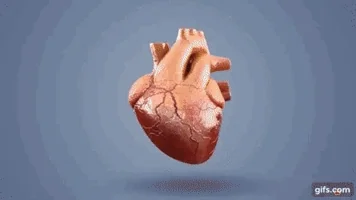 That He would help us come out of various temptations and be delivered out of our infirmities all the while serving his purpose for our life: obediently. Our healing brings us into the ease of a soul secured, a soul guarded, a soul protected and able to defend against the injury opposing it. A soul yielding all the weapons and shielded in the Armour of God. What we sometimes fail to see is that this is a continued call to readiness and preparation for battle. A soul assured in the covering and work of Christ. Wherever this is lacking you bet your bottom dollar your soul will not be at ease.
Here are some questions I need to prayerfully ask myself as Christ performs surgery on my heart:
Are you at risk of a heart attack?
Sources: (Giphs) giphy.com