Selah Session:
Who do you continually serve?
Is the person that you are online, behind closed doors or on weekends, the same person as when you are seen?
Do you ever find yourself conforming because you want to fit in, even when your conscience screams for you to do otherwise?
In Daniel Chapter 6 Daniel is placed in what would seem a completely impossible position. It's one of those situations where you might be facing some serious consequences on either side of the spectrum of choice. Daniel was a righteous and God-fearing man and this meant he was not willing to compromise on any commitments he had made to God. We see here that he was committed to worshipping God truly.
How many of you know what jealousy and envy can be like? You see when you exude excellence in your life and indeed when the favour of God is upon you: some people are going to get angry. Because as stupid as it may seem some humans do not like to see other humans prosper. In Daniel 6:3 It says "3 Then this Daniel became distinguished above all the other high officials and satraps because an excellent spirit was in him. And the king planned to set him over the whole kingdom." He was distinguished/ preferred amongst his pairs. Can you imagine the jealousy and backbiting? I'm sure we can all relate one way or another to this account.
Things got so bad that these disgruntled officials decided to devise a plan against Daniel.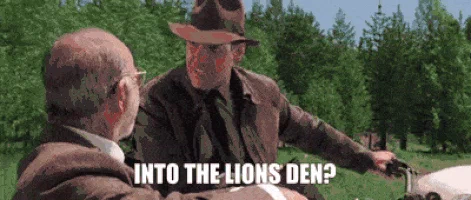 They sought any occasion to bring him down but they could find no wrong in him. Finally, they had to resort to attacking his faith because that was the only thing they found to use. Big mistake, don't you ever get in the middle of a devoted man and his All Powerful GOD. I'm reading this story and in so many ways I want for that to be me. Not that I want others to be envious of me, or to be thrown into a den of lions, but in the position of integrity: I want no occasion to be found in my life of fault, I want to be found faithful and to be lacking any error. How excellent would that be?  For me, this does not mean perfectionism, but to be a person of such integrity, of high standards and to walk in the favour of God, truly worshipping and surrendering to Him in humility. Without spot or blemish or wrinkle this is how Jesus expects us to be presented back to him. We do this by the power of the Holy Spirit and the washing and cleansing of His word.
Daniel was still faithful to God even after hearing of the decree the officials devised against those who prayed to other gods besides King Darius. He did as he always did he went to his house with the windows sprawling open towards Jerusalem as usual and He got down on his knees three times a day and prayed and gave thanks to God. Daniel 6:10 (ESV)10How many of us are actually consistent in prayer? How many are this faithful?
This shows me an example of how I should behave in the face of opposition, in the face of the pressure to conform to a worldly system, even if it means I must face the consequence, even punishment of death.
Get low before God, kneeling is an outward symbol for humility of the soul

Pray often and consistently

Give thanks to God (In any and every circumstance)
Our faithfulness, commitment and obedience to God is rewarded. For Daniel, it meant his deliverance and promotion. I pray it could also mean the same for us today if only we would be faithful and give God his due reverence in our lives. As Daniel was cast into the Den, King Darius who actually respected him greatly says "May your God, Whom you are serving continually, deliver you!"  Maybe this is what Daniel prayed for just before, that God's will be done.
Psalm 34:7English Standard Version (ESV)7 The angel of the Lord encamps around those who fear him, and delivers them.
We see no record of him buckling in fear or compromising by worshipping the King instead. He stayed true to God and was surrendered to His will whatever was to come. He served Him continually! Why can't we do the same? He was a human just like us. Maybe we have set our standards too low, resigning ourselves to mere human striving?
As it turned out we see the distrusting King question if Daniel's God was actually able to deliver him. Oh, boy was he 😮 !!! You see it's not our excellence that saves us in tough situations, rather it's the excellence of our God!
Daniel 6:20-22(ESV) 

20 As he came near to the den where Daniel was, he cried out in a tone of anguish. The king declared to Daniel, "O Daniel, servant of the living God, has your God, whom you serve continually, been able to deliver you from the lions?" 21 Then Daniel said to the king, "O king, live forever!22 My God sent his angel and shut the lions' mouths, and they have not harmed me, because I was found blameless before him; and also before you, O king, I have done no harm."
What can I take away from this?
Serve God continually 
Do not compromise. 
Be a  person of integrity. 
Don't seek revenge, Vengeance is the Lords!
Always remember that your faithfulness, integrity and submission to God can be extremely powerful as a witness to others. In Daniels case, a whole kingdom was affected by his actions. The envious officials were overpowered and destroyed by the same lions meant to take down Daniel. The king set up a decree so that the kingdom would worship the God of Daniel and recognised him as the living God and as a result, Daniel continued on and prospered.
Sometimes we think what we're doing has no impact on anyone else but our acts of trusting and obedience can have huge ripple effects in the Kingdom of God. Your continuance and commitment to God is a powerful testimony, it matters to all of us. So serve Him continually.
Daniel 6:26-27English Standard Version (ESV)
26 I make a decree, that in all my royal dominion people are to tremble and fear before the God of Daniel,
for he is the living God,
    enduring forever;
his kingdom shall never be destroyed,
    and his dominion shall be to the end.
27 He delivers and rescues;
    he works signs and wonders
    in heaven and on earth,
he who has saved Daniel
    from the power of the lions."